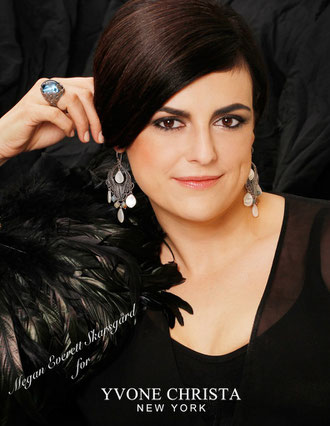 About the brand

Yvone Christa New York is famous around the world for reinventing the ancient technique of traditional filigree jewelry to create new lines of jewelry in a modern key. Every piece of jewelry is hand-crafted using the ancient Venetian filigree technique: thin silver wires delicately twisted into patterns and soldered together, and then given an aged finish. Many pieces include freshwater pearls and semiprecious stones like jade, quartz, jasper, citrine, amethyst, onyx and cubic zirconia. The look of oxidized 925 silver or 18k gold plating is what makes Yvone Christa's jewelry iconic.
Each of Yvone Christa's collections has its own distinct theme, often inspired by flowers like Tulips, Hortensia, Daisies or mythological and legendary places in ancient times. The 2013 spring collection, Garden of Eden, featured Adam and Eve earrings facing each other from opposite ears, serpents writhing around aqua lemuria gemstones, and butterflies and leaves with demure baroque pearl settings. The summer collection, Chair-ity, sought inspiration from the delicate work of vintage chairs: Victorian, Elizabethan, Gustavian, Art Nouveau and Empire are some of the styles that have been reinterpreted to develop these earrings, necklaces and bracelets. In the late fall, a complementary Tiny Chair-ity collection was launched, along with the Aqua Decor 2013 featuring Art Deco inspired Aqua Lemuria jewelry with foiled backs for sparkling pink, purple and orange colors.
All of Yvone Christa's jewelry are carefully handcrafted using only the best materials, and the Chair-ity collection is presented in oxidized silver, 18k gold plated silver and the new black rhodium silver, which was also used for Aqua Decor 2013. As the brand keep evolving and constantly reinventing traditional styles, the new 2014 Suncoil collection is inspired by the sun itself and features circular filigree pieces in symmetrical settings with sparkling Cubic Zirconia and Aqua Lemuria stones. Launched in early spring, the collection received fantastic editorial response in prestigious magazines like Italian Vogue.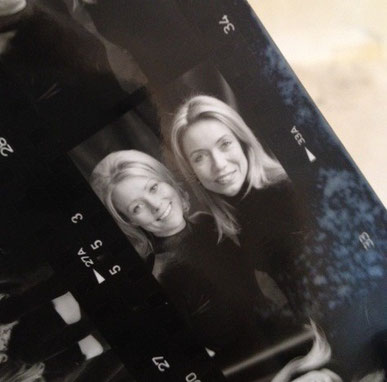 The true Artisans of filigree jewelry
Yvone Christa was launched in 1991 in L.A. by two Swedish designers, Yvone Clamf and Christina Soderstrom. They met in Rome while attending design school, and shortly thereafter relocated to Los Angeles where they started to create their own jewelry at home in a small shared apartment.  Soon, actresses and models like Jennifer Aniston and Cindy Crawford discovered the brand and started to order custom pieces for themselves. The jewelry was also selected for television shows like "Beverly Hills 90210" and "Melrose Place".
At this point, Yvonne and Christina decided it was time to move to the Big Apple!
The flagship store opened on Mercer Street in trendy Soho, and Yvone Christa quickly became a success in New York City as well. With three collections a year featuring necklaces, chokers, bracelets, rings, pins and earrings, many of the bestsellers throughout the years have become classic beloved pieces in demand by Yvone Christa customers worldwide. The flagship store has since re-located to 223 Mott Street, in Nolita.
In 1997, the National Swedish Museum of Art in Stockholm commissioned the" Butter Cup" collection from Yvone Christa on the occasion of an exhibition dedicated to the jewelry of the Czars of Russia. In 1999 the brand was commissioned by the National Gallery of Art of Washington to create the "Forget Me Not" collection, inspired by the painting from Van Huysum. Through the years Yvone Christa has branched out and is carried by high-end department stores such as Neiman Marcus, Bloomingdales, Liberty, and specialty stores like Fred Segal and Jennifer Kaufmann.
Today Yvone Christa is available in more than eleven countries, in prestigeous venues such as Harvey Nichols in London and Sven-Harrys Konstmuseum in Stockholm. Yvone Christa's creations continue to be favored by actresses, artists, models and royalty.  Fans include Madonna, Demi Moore, Paris Hilton, Taylor Swift, Megan Everett Skarsgård, Crown Princess Victoria of Sweden, Kate Bosworth, Christie Brinkley, Kate Moss, and Heidi Klum.
The unique style of the brand has found many followers around the world.